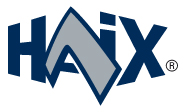 HAIX® stands for Xaver Haimerl. Over 60 years ago, the founder of the company added the X from his first name to the first three letters of his last name and established the Haimerl Xaver shoe factory - or HAIX for short. Based in the Bavarian town of Mainburg, the company quickly makes a name for itself by selling hiking and work boots under various brand names.

As well as being a certified master shoemaker in his father's factory, Ewald Haimerl is the deputy fire chief of Mainburg's fire service. He and his fire fighting colleagues are equally unhappy with the rubber boots they have to wear at that time. The professional shoemaker immediately takes action and designs a collection of functional leather fire fighting boots for his comrades.

The idea takes off: HAIX® fire fighting boots garner praise and recognition. Ewald Haimerl also develops boots and shoes for rescue workers and the police. Today HAIX® continues investing into the millions. Production increases to 700,000 pairs per annum. The company employs nearly 900 people by the end of the year. The production fields of hunting, forestry and outdoor increasingly become the center of focus.